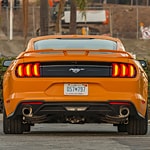 The Ford Mustang has long enjoyed a reputation for being one of the premier muscle cars available to American heavy metal fans. The 2020 edition of this car does not disappoint. It comes with designs that make it even more innovating and exciting.
The new Ford Mustang is equipped with a powerful 5.7-liter V8 supercharged gas engine that gives it muscle and speed on the road. It can go from zero to 60 in mere seconds. It maintains this speed and has the ability to outpace even the fastest muscle car in its class. The new Ford Mustang also comes with a seven-speed TREMEC dual-clutch transmission. You can easily shift from gear to gear to get the best performance in every driving environment. It also has launch control that lets you speed up as quickly as possible.
Finally, the new Ford Mustang comes with a sturdy, sleek exterior body. It retains the classic Mustang style.