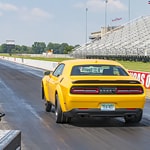 Standing out in a crowd is often seen as an incredibly important element when it comes to purchasing a brand new car. The color, build, and design all play major roles in accomplishing this goal. Fortunately, the brand new 2020 Dodge Challenger is specifically crafted to ensure that it stands out in any Charles City crowd.
Color
The first way in which the Dodge Challenger stands out is in the vast amount of color options that it offers. These colors include a vibrant royal blue, a bright, fiery orange, and a glamorous dark red. With these colors, you and your car will undoubtedly stand out from the crowd on every single trip.
Wheels
The second way in which the Dodge Challenger stand out is in the available wheels that are offered. Ranging from the standard 18-inch satin carbon aluminum to the 20-inch brass monkey, you will undoubtedly find wheels that match your style. If the new 2020 Dodge Challenger sounds like the car for you, schedule a test drive at your local Mike Molstead Motors today!