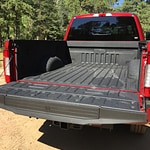 The Ford Super Duty is a popular heavy-duty truck that is known for its legendary durability. It is not uncommon to find Ford Super Duty trucks with well over 100,000 miles. So what makes it so durable? Let's take a look.
The Ford Super Duty features a fully boxed frame made from 95% high strength steel with ten cross members. This allows you to handle major payloads without putting major stress on the truck's suspension. To ensure that the Super Duty can outlast the competition, this truck has been stress tested for over 20 million miles. From subfreezing temperatures to desert climates, the Super Duty has been proven to thrive in any environment.
Get more than what you would expect from a heavy-duty truck. Visit Mike Molstead Motors to take a test drive of the Ford Super Duty. This is the heavy-duty truck that you have to see for yourself. Drive it today.